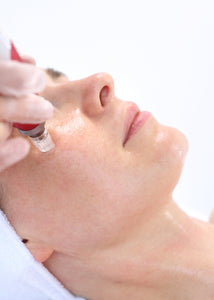 SKIN NEEDLING | COLLAGEN THERAPY
Regular price $289.00 Sale
SKIN NEEDLING | COLLAGEN INDUCTION THERAPY  is a treatment  encouraging  the production of COLLAGEN | ELASTIN | FIBROBLAST activity by harnessing the body's ability to regenerate and repair the skin as a wound healing response. With a medical grade column of fine probes, Dermapen | M-derma effortlessly creates micro-channels in the skin, it is a comfortable advanced procedure, resulting in a radiant, rejuvenated younger looking skin. While optimising results for most skin concerns, including stubborn acne scarring.
RECOMMENDED FOR:
ACNE SCARRING

AGEING | WRINKLES | FINE LINES

PHOTO-DAMAGE | SUN SPOTS

ENLARGED PORES

SKIN TIGHTENING

PIGMENTATION 

TEXTURAL BENEFITS AND REFINEMENT

LACK LUSTER SKIN

STRETCH MARKS
Optimum Results are delivered after a recommended minimum course of 3 to 6 treatments are performed every 14 to 21 days.
A DETAILED CONSULTATION IS RECOMMENDED FOR OPTIMUM RESULTS PRIOR TO YOUR SKIN NEEDLING TREATMENT.
BOOK CLICK HERE