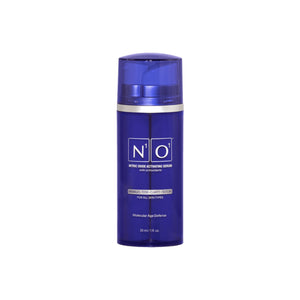 PNEUMA NITRIC OXIDE ACTIVATING AGE-DEFIANCE SERUM
Regular price $245.00 Sale
N1O1 Nitric Oxide Activating Age-Defiance Serum is the only skincare to utilize a Nobel-Prize winning discovery of the age-defiance molecule Nitric Oxide to defy aging skin.  N1O1 Nitric Oxide Activating Age-Defiance Serum, works on a cellular level deep within the skin, to get at the root cause of your wrinkles and improve the appearance of aging skin  by correcting the cause of wrinkled and damaged skin. N1O1 stimulates collagen production and restores the youthful flow of oxygen, hydration, and nutrients to your skin cells.
ANTI-AGING & ANTIOXIDANT
Nitric Oxide foundation of Beautiful skin
Antioxidants - Protect Skin from Free Radical Damage
N1O1 Nitric Oxide Activating Age-Defiance Serum brings together an anti-aging miracle and powerful antioxidants to create a revolutionary skincare serum.
BENEFITS |
Visibly reduces the appearance of wrinkles
Reduces the appearance of dark spots
Improves the skin's texture & tone
Smooths the delicate skin
Moisturizes, protects and energizes
Boosts natural anti-aging molecules
Stimulates collagen production
Activates the skin's natural water management system
Revitalizes skin by improving elasticity
Strengthens cellular barrier function for healthy vital skin cells.