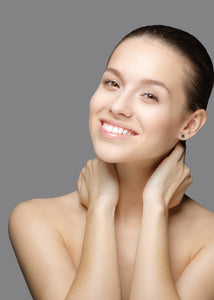 MESO| PEELS 40%
MESO LACTIC PEEL 40% | 
Lactic acid is derived from sour milk or yogurt and has high hydration power stimulating collagen and elastin improving skin tone and texture, particularly suitable for all skin types but extremely effective in treating dehydration and flakiness and premature ageing. It is specifically effective in dissolving dead skin cells and promoting cellular skin rejuvenation and increasing hydration.
MESO MANDELIC PEEL 40% |
Mandelic acid is an exfoliating peel for oily and acne prone skin with Anti-Seborrhoeic properties to reduce oil production and wonderful agent for photo –ageing and pigmentation, it is obtained from hydrolysis of bitter almond extract. This active agent leaving skin feeling restored and harmoniously rebalanced.
MESO SALICYLIC PEEL 40% | 
Salicylic acid is very specific in nature traditionally used to combat white heads and exfoliating deep within the pores because it is attracted to oils. It mixes freely with existing oils on the epidermis as well as the sebaceous material within the follicle. Perfect for problematic, acne, oil, sun damaged and pre-matured PHOTO DAMAGED aged skin. Derived from the willow bark tree traditionally recognised as natures anti inflammatory.
NOTE A CONSULTATION IS RECOMMENDED PRIOR TO TREATMENT ON THE DAY| ALL TREATMENTS AT 
BEAUTYMEDIX ARE PRESCRIBED ON INDIVIDUAL NEEDS AND REQUIREMENTS.
|
ADDITIONAL INFORMATION MESO PEELS| CLICK HERE