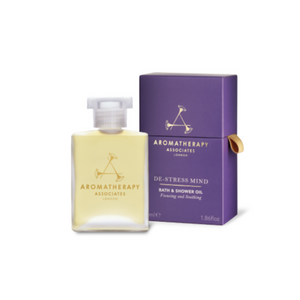 THE DE-STRESS MIND BATH & SHOWER GEL
Regular price $92.00 Sale
Give your mind some mental clarity by using this focusing and calming blend of Frankincense, Petitgrain, Wild Camomile and Rosemary. De-Stress your mind after a long day by experiencing the powers of aromatherapy.
An anti-stress bath & shower oil
Contains essential oils of frankincense, petitgrain, wild chamomile & rosemary
Helps gently cleanse body while organizing your thoughts
Delivers a subtle scent to ease emotional stress & confusion
Leaves body skin soft & refreshed
To use: Add a capful to bath or smooth over body before showering. There is enough oil for approximately 20 experiences. Follow with appropriate body wash & moisturizer if required.
RITUAL RELAXATION RESPONSE : CUP YOUR HANDS, BREATHE FOCUS, DEEP, LONG, SLOW BREATHES CONCENTRATING ON RELEASING TENSION FROM THE BODY AND CALMING THE SOUL AND MIND.