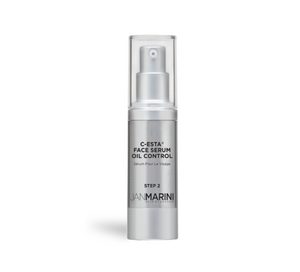 C-ESTA SERUM OIL CONTROL
Regular price $148.00 Sale
Lift, firm and tighten the appearance of facial contours with this exceptional antioxidant cocktail featuring Vitamin C & DMAE for powerful free-radical protection with additional oil control.
Great for oily skin, C-ESTA Serum Oil Control is a powerful antioxidant cocktail, featuring Vitamin C and DMAE, designed to reduce the appearance of fine lines and wrinkles and uneven skin texture while substantially reducing oil breakthrough. C-ESTA Oil Control is the perfect Vitamin C and antioxidant solution for individuals seeking younger, healthier looking skin.
Usage Instructions
Apply sparingly morning and evening to clean skin. Apply over entire face, neck and behind ears. C-ESTA Serum Oil Control can also be applied: In spots or areas. For example, on the T-Zone over sunscreen or just on the nose or forehead, etc. over sunscreen. Apply sparingly to the appropriate areas and massage in thoroughly. On oily upper eyelids in order to enhance eye shadow wear and prevent creasing. Apply sparingly, being extremely careful not to get product in eyes. On and around lips in order to enhance lipstick wear and lessen lipstick "bleeding.