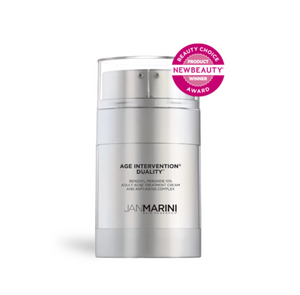 AGE INTERVENTION DUALITY
Regular price $148.00 Sale
AGE INTERVENTION DUALITY| Combines SERIOUS ACNE CONTROL with dramatic anti-aging benefits. Eliminates 
even the most stubborn adult acne without dryness or irritation while simultaneously minimizing the appearance of fine lines and wrinkles.
This breakthrough solution combines serious, clinically-proven acne correction with dramatic anti-aging benefits – the first of its kind. The unique dual-chamber pump combines some of the most medically validated, yet previously incompatible, technologies in a single solution. The maximum allowed percentage of ultra-micronized benzoyl peroxide, highly concentrated all-trans-retinol, green tea extract, anti-aging peptides and antioxidants deliver unparalleled results in a non-irritating, easy to use solution.
USAGE INSTRUCTIONS| Clean the skin thoroughly before applying this product. This product contains two parts. Dispense and briefly mix together one pump of product from each of the two chambers on your palm. Cover the entire affected area (not a spot treatment) with a thin layer one to three times daily. Excessive drying of the skin may occur, thus start with one application daily; gradually increase to two or three times daily if needed.