NON-SURGICAL, NON-INVASIVE FAT LOSS:
360° BODY CIRCUMFERENCE REDUCTIONNON-SURGICAL 360° BODY FAT & CIRCUMFERENCE REDUCTION
WHAT IS BODY CONTOURING OR BODY SCULPTING?
Body contouring or sculpting is invariably the process of fat reduction and is also known as fat cavitation, cool sculpting, cryolipolysis, lipolysis, liposuction, etc.. But they all attempt to target and reduce (or reassign) the volume of fat stored around the body, or even stimulate muscle activation .
Methods of Body Contouring may include;
Liposuction surgery
Cryolipolysis, or controlled cooling, uses freezing temperatures to target and destroy fat cells
Laser lipolysis uses controlled heating and laser energy to target fat cells
Radiofrequency/Ultrasaound lipolysis uses controlled heating and ultrasound technology to target fat cells
Injection lipolysis uses injectable deoxycholic acid to target fat cells
High intensity focused electromagnetic therapy
The supreme difference of the Emerald Laser is;
1. Non-surgical and zero downtime
2. Zero discomfort. Does not heat the skin or cells
3. Effective for BMI over 30 up to 40 BMI
4. Expedient with torso treatment taking only 30 minutes – 15 minutes front and 15 minutes back
5. Lipolysis without fat cell destruction
WHAT IS EMERALD LASER FAT & CIRCUMFERENCE REDUCTION?
The Emerald Laser is a Non-Thermal Low Level Laser Therapy "NTLLLT" device used to liberate fatty lipids from fat cells without fat cells destruction.
The Emerald Laser is approved by Therapeutic Goods Administration "TGA" (Australia) as a "low-intensity laser fat liquefaction system"¹. Emerald Laser is the first non-surgical treatment device approved "…for reduction of body fat and circumference in individuals with a Body Mass Index 'BMI' of up to 40 kg/m²"¹.
Emerald Laser can be used for treatment of stubborn pockets of fat and 360° body circumference reduction and body contouring. Most importantly, Emerald Laser treats fat by liberating lipids from fat cells rather than fat cell destruction. The latest research confirms, in the long-term, the number of fat cells in your body remains constant throughout your life even after fat cell destruction treatments. The majority of the other pre-existing fat destruction methods, such as liposuction (a.k.a., lipectomy or lipoplasty ie. surgery), cryolypolisis and fat-freezing, (e.g., CoolSculpting, Clatuu), injection lipolysis (e.g., Kybella), radiofrequency lipolysis (e.g., Vanquish, Trusculpt ID, Inmode Bodytite), high intensity focussed ultrasound (HIFU) (eg. Ulfit HIFU, Ultraformer III, Ultherapy) and laser lipolysis (e.g., SculpSure) achieve fat reduction or body sculpting by destruction of fat cells . Body contouring via fat cell destruction may not be desirable or sustainable because;
1. Destructed fat cells may be regenerated and redistributed around the body as part of normal body function.³
2. These regenerated fat cells may be redistributed to body parts which may result in unintended body contouring, such as neck, groin, arms, armpits, back, ankles, knees, etc.. To make matters worse, if fat cells are regenerated and distributed around the body it may not be possible to treat certain body parts with the same fat destruction method due to technological or physiological constraints, eg., armpits, groin, neck.

3. Emerald Laser is a cold-laser technology which can be used to re-treat in case of patient regression. For example, if you regain fat or find it difficult sustain a neutral net caloric intake it is possible to implement a maintenance program. Retreatment is possible because Emerald Laser does not lead to fat cell regeneration and redistribution, so the same areas can be retreated without pain or downtime.

Footnote:
1. Australian Register of Therapeutic Goods Certificate: Issued to Compliance Management Solutions for approval to supply Compliance Management Solutions - Low-intensity laser fat liquefaction system. ARTG Identifier 395892 ARTG. Start Date 13/09/2022 Product Category Medical Device Included Class IIa. GMDN 58252. See certificate here.
2. Not suitable for - pregnant women, photo-sensitive epilepsy, or cancer (active or within 1 year of remission).
3. "We conclude that B(ody) F(at) is not only restored to baseline levels in nonobese women after small-volume liposuction, but is redistributed abdominally." – Randomised Control Trial: Fat redistribution following suction lipectomy: defense of body fat and patterns of restoration. Teri L Hernandez , John M Kittelson, Christopher K Law, Et Al.
THE SCIENCE: IS EMERALD LASER UNIQUE?
Yes! Emerald Laser is a NTLLLT device and the only device which;
1. Is certified for treating persons with Body Mass Index over 30 BMI, up to 40 BMI by TGA (Australia) and FDA (USA), and
2. achieves fat and circumference reduction WITHOUT fat cell destruction - fat cell remodelling, without fat cell destruction which may result in fat cell redistribution,
3. improves Quality of Life "QoL" because fat cells form part of the endocrine system. For an explanation and why fat destruction may be unsustainable and undesirable please review Emerald Laser Technical.
4. is sustainable in the long-term because Emerald Laser can re-treat the same body parts months or years later.
THE REGULATIONS: IS EMERALD LASER SAFE?
Efficacy and safety has been certified;
- by FDA (USA) and TGA (Australia) and CE (Europe) for fat reduction for all body types up to 40 BMI.
- FDA (USA) approved after submission of numerous, multi-centre, double-blind, randomised control trials,
- To provide results without changes to diet, exercise or lifestyle,
- safe¹ and without any side-effects,
- as non-surgical, painless, without any down-time, and each treatment can be completed during your lunch-break – each body part eg., 360° front and back torso can be treated in 30 minutes.
The Emerald Laser technology is founded upon 25 years of trail-blazing research and development by US-based company which holds 20 of the 25 US FDA NTLLLT market clearances in USA. See Emerald Laser Technical section for technical details and papers.
INTEGRITY: DOES IT WORK?
A clinical trial submitted for FDA assessment of the safety of the Emerald Laser reported an average of 4.9 inches total circumference reduction after 12 treatments over 4 weeks.
A picture paints a thousand words;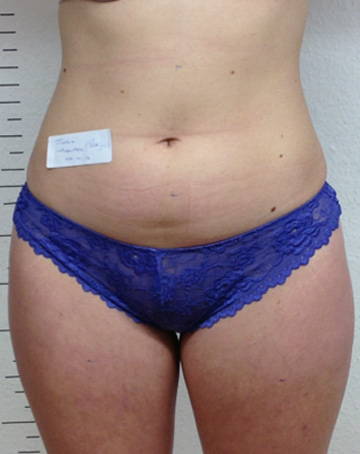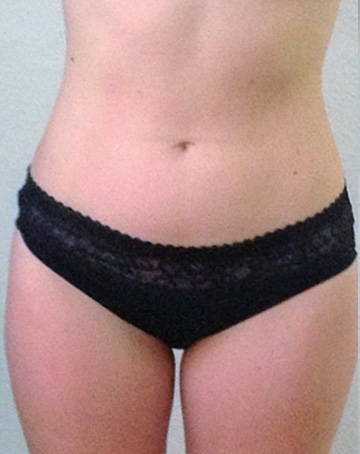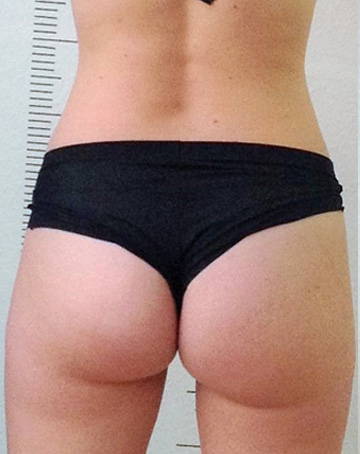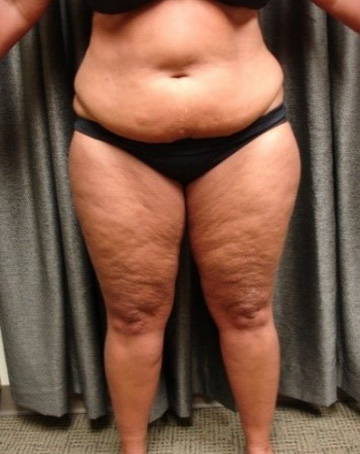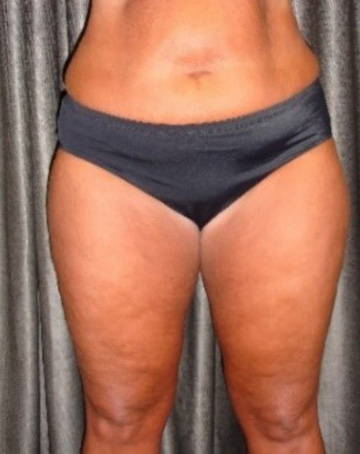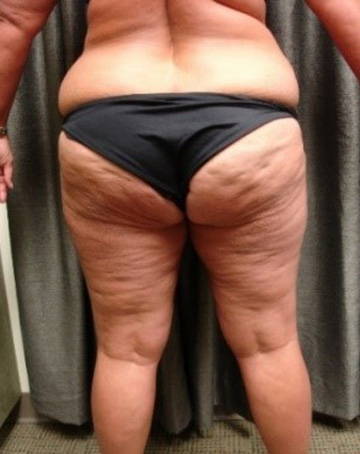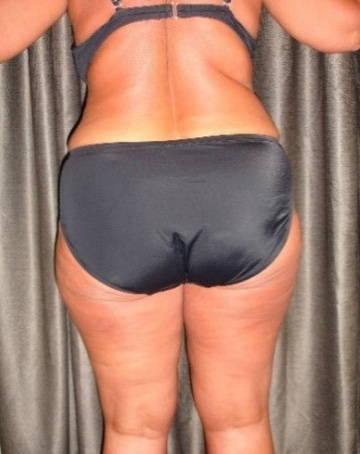 TECHNICAL: HOW IT WORKS
Emerald Laser is a "Non-Thermal Low Level Laser Therapy device used to liberate fatty lipids from fat cells without destroying the fat cells. Ten rotating emerald laser beams are cast over the body part (ie., torso or thighs) to be treated. It works by increasing the energy in the fat cells. The fat is emulsified within the cell and the laser creates a transitory pore, allowing the fat to leak out of the cell into the interstitial space (Roche et al, 2017). The liberated lipids are either used as energy or excreted by the body's normal functions. Research involving 639 participants from another randomised controlled trials confirmed that liberated lipids are not redistributed to other parts of the body. This was achieved by measuring circumference change of treated, as well as untreated body regions, which confirmed circumference reduction was achieved in the treated and untreated areas. Research also noted that there was no rise in triglycerides or cholesterol in blood samples after treatment and liberation of lipids from fat cells. In fact, triglycerides or cholesterol levels in the blood were shown to decrease following NTLLL treatment.
The Emerald Laser is used for fat and/or circumference reduction on its own the first part of a multi-facet treatment for body contouring to eliminate the stubborn fat from large or small pockets of each body part. Depending on the extent of fat reduction and resulting skin laxity additional protocols can be deployed to treat excessive skin laxity with non-surgical protocols. QoL is further enhanced and supported by studies which confirm that liberated lipids from fat cells in treated areas were not redistributed and absorbed in non-treated areas by measuring treated and untreated body parts.
WILL YOU LOVE IT? QUALITY OF LIFE
In addition to the 360° body fat and circumference reduction the Emerald Laser has no known negative side-effects but has

some positive Quality of Life "QoL" side-effects

;
- By liberating lipids rather than destroying fat cells we can avoid unintended body contouring from fat cell regeneration, redistribution and accumulation around the body (eg., groin, shoulders, neck, etc.) where re-treatment may be relatively more difficult. See
clinical study Women gain weight and fat mass despite lipectomy at abdominoplasty and breast reduction by A S Rinomhota, D U S Bulugahapitiya, et al.
- the Emerald LLLLT increases collagen concentration in the dermal layer and remodels collagen within the fibrous septae. "Cellulite is a multifactorial condition however strained fibrous septae is a significant contributing factor of the appearance of cellulite" (Sadick N. Int J Womens Dermatol. 2019;5(1):68-72) .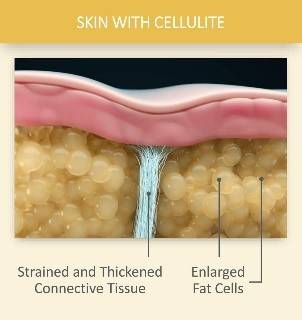 -
Proven
, reduction in LDL cholesterol during treatments, showing released fat doesn't enter the bloodstream.
-

Proven

, the release of lipids following LLLT does not elevate plasma lipids, plasma triglycerides or cholesterol.
-

Proven

, FDA cleared study shows circumferential reduction in the upper arm.
-

Proven

, FDA Cleared study indicates the Emerald laser delivers an average 11.43cm reduction from the waist, hips and thighs.
-

Proven

, FDA cleared study shows 15.78cm circumferential reduction with new 'once per week' for 6 weeks treatment protocol.
-

Proven

, FDA and TGA cleared to effectively treat obese patients with 30-40 BMI.
BEAUTYMEDIX always employ only the safest advanced technologies and aesthetic products for those who want to look your best naturally for many years to come and without compromising long term Quality of Life "QoL". BeautyMedix is proud to announce the Emerald Laser has arrived in Australia and received TGA approval for treatment reduction of body fat and circumference in individuals with a Body Mass Index 'BMI' of

up to 40 BMI

. Beautymedix will conduct complimentary consultation before recommending any treatment. Factors such as BMI, general health, lifestyle and personal goals will be discussed to determine the optimal treatment. The following treatments may be combined depending on your goals and needs, to deliver safe, sustainable and visible results with zero downtime;
- Emerald Laser treatment by body area
- Duration and frequency between treatments
- Supplementary aids, such as light Lymphatic stimulation or vibration therapy
- Other targeted fat reduction and skin tightening protocols