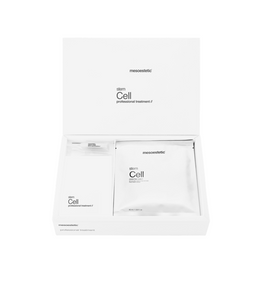 STEM CELL REJUVINATING MASK AND STEM CELL SERUM 3ML AMPOULE
Regular price $139.50 Sale
REGENERATIVE MASK AND SERUM 3ML AMPOULE SOLUTION BY MESOESTETIC|
SPECIAL| FOR A SHORT TIME ONLY DURING ISO IN MELBOURNE :
A PROFESSIONAL MASK for the FACE|NECK  with a high concentrations of plant stem cells, designed to stop the slowdown in cellular regeneration, strengthening the structure of connective tissue and improving the quality and texture of the skin by stimulating collagen and fibroblast activity and production.

STEM CELL AMPOULE 1 X 3 ML| WITH A 10% stem cell extract, it is a powerful starting treatment against cell ageing, reversing the skin degradation process. Including Vitamin A and E | with intensive antioxidant, emulsifying, moisturising and regenerating properties.