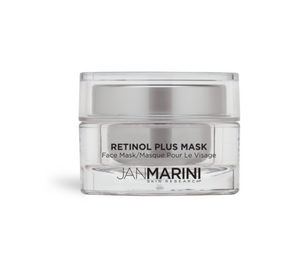 RETINOL PLUS MASK
Regular price $148.00 Sale
Experience superior benefits and reduce the appearance of fine lines and wrinkles with Retinol Plus Mask.
Retinol Plus Mask helps reduce the appearance of fine lines and wrinkles, sun damage, and hyperpigmentation. Used just 1-2 times weekly, Retinol Plus Mask with multiple advanced technologies including retinol, peptides, antioxidants skin protectants and soothing agents gives skin a fresh polished look.
Usage Instructions
After cleansing, apply a thin, even layer to entire face, avoiding eye area. Leave mask on for approximately ten minutes. Mild stinging or tingling may occur. Remove with a clean, wet and wrung out washcloth, using lukewarm water. Blot dry. May be used one to three times per week.
CAUTION: This product contains Retinol (Vitamin A). A broad spectrum sunscreen is recommended while using this product. Use in pregnancy and while breastfeeding is not recommended.