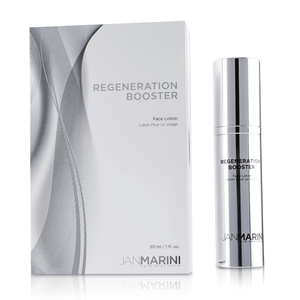 REGENERATION BOOSTER JAN MARINI 30ML
Regular price $298.00 Sale
REGENERATION BOOSTER JAN MARINI
A patented peptide face lotion shown to deliver rapid and significant reduction in the visible signs of ageing, significantly improving the appearance of the skin, its texture and overall skin tone.
Maximum results are delivered through a combination of advanced ingredients including cycloastragenol, multiple beneficial epidermal growth factors, hydrating ceramides, peptides, coenzyme Q10, antioxidants and advanced hydrator's.
Jan Marini Regeneration Booster reduces the visible signs of aging by stabilizing DNA telomeres and increased cellular renewal. Each dose enables your cells to rebuild faster and more often, diminishing fine lines and wrinkles.
Medically-validated solutions for improving visible signs
SUITABLE FOR ALL SKIN TYPES AND MOST CONDITIONS
ANTI-AGEING
PHOTO-DAMAGED SKIN
HYDRATION
REFINEMENT | TEXTURE 
SKIN BOOSTER
ENLARGED PORES
SOME INFLAMMATORY CONDITIONS (TO BE PRESCRIBED BY YOUR CLINICIAN)
 POST PROCEDURAL USE 

(TO BE PRESCRIBED BY YOUR CLINICIAN)