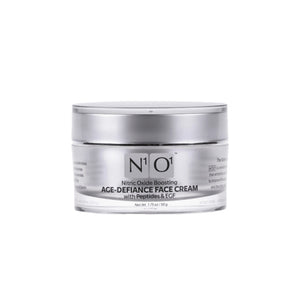 PNEUMA AGE-DEFIANCE FACE CREAM
Regular price $180.00 Sale
N1O1 Nitric Oxide Boosting Age-Defiance Face Cream is a revolutionary skincare breakthrough that is specially formulated with 3 amazing anti-aging ingredients to specifically target problem skin.
AGE-DEFIANCE FACE CREAM VISIBLE BENEFITS |
Visibly reduces the appearance of wrinkles
Reduces the appearance of dark spots
Improves the skin's texture & tone
Smooths the delicate skin
Moisturizes, protects and energizes
Boosts natural anti-aging molecules
Stimulates collagen production
Activates the skin's natural water management system
Revitalizes skin by improving elasticity
Strengthens cellular barrier function for healthy vital skin cells.
BENEFITS | 
AGED SKIN
PHOTO DAMAGED SKIN | SUN DAMAGE
ACNEIC | CONGESTED SKIN
STRESSED | DULL | DEHYDRATED 
SENSITIVE SKIN
PIGMENTATION | DARK SPOTS
INFLAMMED SKIN
WEAK SKIN BARRIER
N1O1 - NITRIC OXIDE BOOSTING | AGE-DEFIANCE FACE CREAM brings together 3 of the most powerful anti-aging miracles in luxurious face cream PLUS natural botanicals.
N1O1 Nitric Oxide Boosting Age-Defiance Face Cream the only skincare to utilize a Nobel-Prize winning discovery of the age-defiance molecule Nitric Oxide to defy aging skin by helping to address the cause of wrinkled and damaged skin. N1O1 Age-Defiance Face Cream works on a cellular level deep within the skin, to get at the root cause of your wrinkles and improve the appearance of aging skin.
NITRIC OXIDE
The Foundation of Beautiful Skin
Our bodies produce a molecule called Nitric Oxide. Scientists call Nitric Oxide the "anti-aging molecule". It helps to keep your skin youthful, hydrated, nourished, and glowing. Proper Nitric Oxide production is essential for healthy cell function. An unhealthy cell is "leaky" and can not retain moisture and nutrients and the collagen building-blocks. Nitric Oxide promotes cellular health, stimulates collagen production, and restores the youthful flow of oxygen, hydration, and nutrients to your skin cells. The problem is our body makes less Nitric Oxide as we get older. This is the reason your skin AGES. N1O1 skincare helps to restore the missing N.O. to get to the root cause of aging skin. Nitric Oxide production is an essential foundation for healthy skin cell function and youthful-looking skin.
COMPLEX PEPTIDES | REJUVINATION| 
N1O1 features complex peptides. Peptides are the building blocks of proteins needed by the skin, like collagen and elastin. Along with proper Nitric Oxide promoting healthy skin cell function, Peptides can lead to firmer, younger-looking skin and treat various forms of compromised skins.
EPIDERMAL GROWTH FACTOR (EGF)

BOOST COLLAGEN & ELASTIN 
EGF (Epidermal Growth Factor) is a natural protein found in human skin.
 

EGF

 

signals cells to boost collagen and elastin production to maintain healthy, supple, and youthful skin.