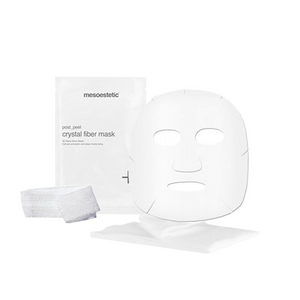 INTENSE CELLUALR RENEWAL MASK
Regular price $32.50 Sale
INTENSE RENEWAL MESOESTETICS CRYSTAL FIBER MASK
The Mesoestetic Post Peel Crystal Fiber Mask ® is an intense revitalizing and moisturizing face mask especially designed to enhance cell renewal and restoring balance and harmony. Due to its simple application it can be also used as a wonderful home care tool. 
CRYSTAL FIBER MASK

DISPOSABLE HEAD BAND   
LUXURIOUS EMBOSSED  DISPOSABLE SPA TOWEL  
FEATURES : Crystal Fiber Mask is made from crystal fiber, an innovative material based on 3D nano-fibers.
KEY INGREDIENTS : Hyaluronic acid, Platinum powder and Seaweed extract.

HYALURONIC ACID plays an important role in the transfer of nutrients and regulates the skin water balance. It is characterized by a high purity and bio-compatibility. HA  maintains optimal moisture balance, improves elasticity, and slows down the aging process,  intensive hydration and moisturization of the skin, and smooths wrinkles.

PLATINUM POWDER is perfect for wrinkles, fine lines, dark circles and tired skin. It is also suitable for all skin types.

SEAWEED EXTRACT is a natural non-toxic organic product. It helps to protect the skin from external aggression.
BENEFIT: Stimulates cell renewal, restores softness, improves elasticity, hydrates and moisturizes the skin, provides nutrients, and reconstitute the water-lipid layer. It is 100% natural, hygienic and safe.
DIRECTIONS : Apply the Crystal Fiber Mask onto the clean and dry skin, the mask has two protective sheets on either side of the 

Crystal Fiber Mask, carefully remove these applications and you will find a mask which contours perfectly to the shape of your face with eye and nose  openings, smooth over the face.

  Leave for 20 minutes and any residual serum should be applied and massaged into the skin for maximum results.
SPA TOWEL: 

The white embossed

delicate soft pearl weave towel is the same size as a regular salon towel. Perfect for hot and cold retention; this luxury, hygienic alternative is excellent for the infusion of and removal of products. 100% biodegradable