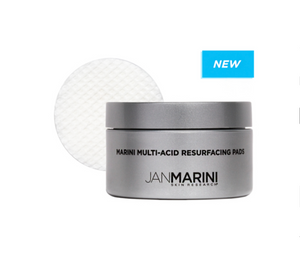 MARINI MULTI-ACID RESURFACING PADS
Regular price $136.00 Sale
Resurface for immediately smoother, more polished skin with reduced appearance of pores, fine lines & wrinkles
Take your service and home care results to the next level! This dynamic quadruple-acid at-home peel combines 4 unique and powerful acids to immediately resurface the skin for smoother, more luminous skin, visibly more refined surface texture and a reduced appearance of pores, fine lines and wrinkles. As a secondary benefit, these at-home peels are also excellent at assisting to clear the appearance of acne and acne discoloration. Combined with soothing and calming ingredients, the Marini Multi-Acid Resurfacing pads gives immediately brighter, smoother, glowing skin!
Skin Type:

 
All.
Directions for use: 
Home Care: Use as an "at home peel" 2 times per week with any JMSR regime

In conjunction with IN CLINIC treatments: Enhance results and longevity of results of Glycolic Peels, and as a preparatory product to maximise results + lessen downtime.

Apply to clean, dry skin. Using a pre-moistened pad, apply to the entire face avoiding the eyes and lower eyelids

Wait 5-15 minutes. Depending on skin type and sensitivity. Initially may want to start with 1-5 minutes and then build up over time.

Remove with water and damp wash cloth. Apply a Jan Marini Moisturiser immediately post. Use SPF.

 
Contains 30 Pads