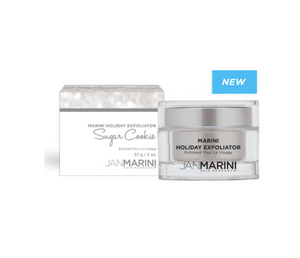 MARINI HOLIDAY EXFOLIATOR - SUGAR COOKIE SCENT
Regular price $148.00 Sale
Limited-edition holiday box and Sugar Cookie scent. Immediately refines the appearance of skin for a radiant, polished glow.
This decadent exfoliator combines physical and chemical exfoliators with antioxidants for a silky smooth, glowing complexion. Proteolytic enzymes and glycolic acid polish the skin for superior exfoliation without the need for harsh abrasives. Specially designed microscopic particles gently exfoliate the skin while releasing a skin protectant for a silky smooth finish. Treat yourself to the 2017 Sugar Cookie Marini Holiday Exfoliator.
Available in a 60ml jar
Usage Instructions
After cleansing, gently apply an even layer to wet face using circular motions for approximately 15-30 seconds. Mild stinging or tingling may occur. Gently remove using a washcloth with tepid water and blot dry. May be used two to three times per week, AM or PM. Follow by applying your Jan Marini Skin Research product regimen.