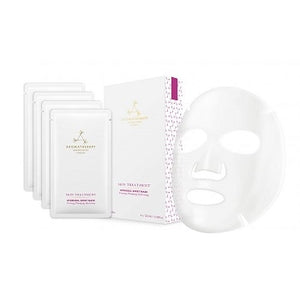 HYDROSOL SHEET MASK PACK
Regular price $80.00 Sale
HYDROSOL SHEET MASK PACK|
Experience the intensely hydrating and firming effects of our HYDROSOL SHEET MASK, crafted with an innovative hydro-formula and a biodegradable, non-slip lace fabric.
In one effortless and non-drip application, hand-blended pure essential oils and powerful plumping actives deeply penetrate the skin to reveal a lifted, firm and beautifully smooth complexion in just 10 minutes.
Derived from 100% pure distillate, Frankincense Hydrosol's skin rejuvenating properties helps brighten and tighten the skin. Hyaluronic Acid and Turmeric improve texture and minimise the appearance of fine lines, while Frankincense and Rose essential oils promote a healthy, radiant glow.
THE RITUAL
Remove the mask from its sachet and gently unfold. Place the mask over thoroughly cleansed, toned, dry skin. Lightly smooth around eyes and mouth for a perfectly contoured fit. Leave on for 10 -20 minutes for optimum absorption. For enhanced benefits, use fingertips to gently massage over pressure points above the brow, on the cheekbones, and along the jawline, moving in slow, circular motions. Peel off mask and press any remaining serum into the skin. Follow with your usual skincare routine. Dispose of the mask after one application. Use once or twice a week, or as needed.
INGREDIENTS
Aqua (Water), Boswellia Carterii (Frankincense) Gum Water, Polyglyceryl-4 Caprylate, Phenoxyethanol, Ethylhexylglycerin, Curcuma Longa (Turmeric) Root Extract, Aloe Barbadensis Leaf Juice, Potassium Sorbate, Citric Acid, Sodium Hydroxide, Sodium Hyaluronate, Fusanus Spicatus (Australian Sandalwood) Oil, Rosa Damascena (Rose) Flower Oil, Parfum**, Citronellol*
Contain: 4 sheets in a pack