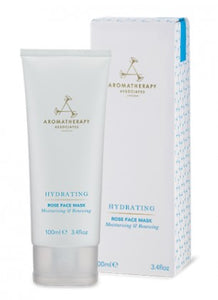 HYDRATING ROSE FACE MASK
Regular price $99.00 Sale
HYDRATING ROSE FACE MASK
A deeply hydrating mask to restore vital moisture to dry skin.
When your skin needs an extra dose of moisture, layer on our Hydrating Rose Face Mask. The Damask Rose Water infused gel mask returns vital hydration to skins surface flooding it with moisture and natural humectants. Skin emerges supremely hydrated, glowing and dewy-fresh.
THE RITUAL
Use this mask 2 to 3 times per week after exfoliating for the best results. Layer the mask over the face and neck and relax for ten minutes. Rinse away with warm water to reveal beautiful radiant skin. Build facial therapy by following with serum, face oil and moisturiser. For extra dry skin, use over a layer of face oil and leave on, to work overnight.
BENEFITS

MOISTURISING
NOURISHING
ANTI-AGEING

RENEWING

SOFTENS SKIN
ANTI-INFAMINATORY
Ingredients
Aqua (Water), Aloe Barbadensis Leaf Juice, Rosa Centifolia Flower Water, Sodium Hyaluronate, Carbomer, Phenoxyethanol, Ethylhexylglycerin, Potassium Sorbate, Sodium Benzoate, Citric Acid, Sodium Hydroxide, Geraniol*, Citronellol*
*Natural Essential Oil Contents