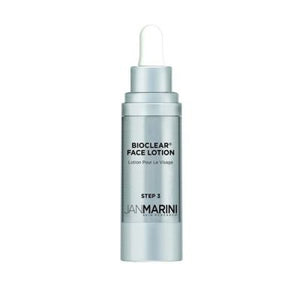 BIOCLEAR LOTION
Regular price $136.00 Sale
BIOCLEAR LOTION A REMARKABLE PRODUCT THAT TARGETS A VARIETY OF MULTIFACETED SKIN CONCERNS. UTILISING A COMBINATION OF GLYCOLIC |  SALICYLIC | NATURLAL ACID FOR  EXCEPTIONAL RESULTS, A WONDERFUL ADDITION TO ANY SKIN REGIME, SUITABLE FOR ALL SKIN TYPES AND IS PARABEN FREE.
BENEFITS
TEXTURAL REFINEMENT
WRINLKLES | FINE LINES
ACNE SCARRING
PIGMENTATION | DISCOLOURATION
PHOTO-DAMAGE | SUN SPOTS
BLACK HEADS 

ENLARGED FOLLICLES

RESURFACING SKIN 

INCREASED HYDRATION 

 INCREASED LUMINOSITY

PROVIDES DRAMATIC RESURFACING | RETEXTURING BENEFITS ON ANY SKIN TYPE RESULTING IN MEASURABLY SMOOTHER, CLEARER AND YOUNGER LOOKING AND FUNCTIONING SKIN. 
USAGE | Products that contain Alpha Hydroxy Acids (AHA's) may cause initial flaking, tingling or irritation to the skin. For some this may be part of the normal resurfacing process. This generally improves as the skin becomes accustomed to the treatment. AHA products may be introduced with less frequent use, and application can be increased as the skin acclimates