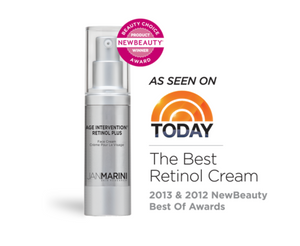 AGE INTERVENTION RETINOL PLUS
Regular price $128.00 Sale
Featured on the Today Show and two-time award winning Best Anti-Aging Retinol Cream by NewBeauty Magazine. This advanced solution combines retinol, peptides and antioxidants for superior improvement in the appearance of skin texture, fine lines, wrinkles and sun damage for younger, healthier looking skin.
Age Intervention Retinol Plus redefines expectations for retinoids. Highly concentrated all-trans-retinol is combined with advanced peptides and antioxidants for maximum results and satisfaction while integrated soothing and hydrating ingredients offer superior experience with minimal acclimation.
Usage Instructions
Apply product sparingly over entire face every other evening for the first 1-2 weeks, then slowly increase usage, as tolerated, to 1-2 times daily. If irritation occurs, decrease the frequency of application to allow the skin greater time to acclimate.
CAUTION: This product contains Retinol (Vitamin A). A broad spectrum sunscreen is recommended while using this product. Use in pregnancy and while breastfeeding is not recommended.